PTFA
WE NEED YOU!

The PTFA need a new treasurer by the end of this year and someone to run St Nicks Fair.
As you may know, St Nick's Fair is the most lucrative money raising event that the PTFA and KCC hold each year. Any volunteers to help organise and run it would be massively appreciated.
If you would like to help, please contact:
Ben Harris on: ben@goggleboxuk.com
or James Morris on: james.morris@check1.com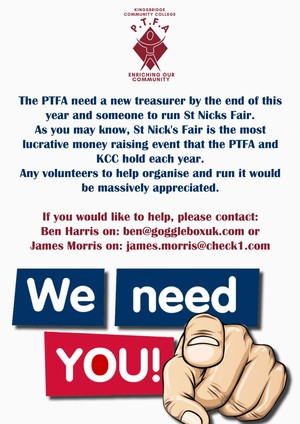 In 2017-2018, the PTFA raised an impressive £7480! Thank you to everyone who has helped.
Can we do better this year? Click here for the 2018-2019 bids
If you would like to know more about the PTFA, please contact: Ben Harris or James Morris
Kingsbridge Community College PTFA Raise Over £200
The Parent, Teacher and Friends Association (PTFA) at Kingsbridge Community College have once again been actively raising money for the school.
They appealed to fellow parents and staff to donate clothes and textiles, which were then passed on to Bag 2 school, who weigh the donations and pay the school for their contribution. The charity has paid over £30 million to schools in the UK, including paying over £200 to Kingsbridge Community College over the last year.
A member of the Kingsbridge Community College PTFA, Suzanne Thomas, commented that 'With reductions in public funding for schools it is vital that the PTFA do what they can in order to raise money for our children's education. The amazing thing about this appeal is that every child in the school will benefit with the money raised going towards better resources to support their education.'
The PTFA are always looking at new ways to raise money for Kingsbridge Community College, to further support students.
They would like to thank everyone who donated to this appeal.