Uniform Policy
Boys' Uniform
Black blazer
White long-sleeve shirt with collar (worn tucked in to trousers/shorts at all times)
Formal, grey tailored trousers/shorts
Red and grey tie
Black shoes
White or black plain socks
Optional: black belt
Optional: College black jumper
Girls' Uniform
Black blazer
White long-sleeve shirt with collar (worn tucked in to skirt/trousers at all times)
Red/grey tartan skirt or grey tailored trousers/shorts
Red and grey tie
Black shoes
Black or flesh-coloured tights (plain and not laddered or ripped)
White or black plain socks (no white/coloured socks to be worn over black tights)
Optional: College black jumper
All items with the exception of the white long-sleeve shirts (with collar) and trousers/shorts must be purchased from the College's registered stockist: Proserve Group - Uniform Supplier
Please note:
Blazers: Black blazer with the College logo must be purchased from the College's recognised supplier.
Skirts: Red/grey tartan skirts - all skirts must be purchased from the College's recognised supplier. No other skirts will be permitted. Please ensure the hem of the skirt is just above the knee.
Trousers: Grey trousers for both girls and boys. Trousers must be in a formal, tailored style. Skin-tight trousers, jeans or jean/chino-style are not permitted.
Shirts: White long-sleeve shirt with collar (worn tucked in to skirt/trousers at all times). Coloured t-shirts or those with prominent logos or patterns as vests are not permitted.
Jumpers: These are optional but if worn, must be purchased from the College's recognised supplier. Students may only wear KCC v-neck jumpers: no other jumpers, fleece tops, hoodies or body warmers are to be worn in College.
Shoes: Plain black leather/leather-look smart with no logos or markings – must be polishable (no suede). No trainers, trainer-style or canvas shoes. A selection of acceptable and non-acceptable shoes and brands are contained within the Uniform Letter located at the top of this page.
Tights: Tights can be flesh-coloured or black. Students will be asked to remove any white/coloured socks that are worn over black tights.
Outdoor Coat: Students need an outdoor coat for College. It must be removed in lessons.
Jewellery: If worn, this must be discreet (i.e. 1 small ring, 1 bracelet, 1 necklace, 1 pair stud earrings). No excessive jewellery. Students wearing excessive jewellery or belts will be asked to remove the items and hand them in to Student Support for collection at the end of the College day.
Piercings/Nails: No visible body piercings are permitted, including eyebrow, nose, lip, tongue and ear-stretchers. Students may not have acrylic/false nails for College. Any students wearing these will be required to remove studs/ rings and hand them in to Student Support for collection at the end of the College day. Alternatively, you will be asked to either tape up or wear a retainer or clear plastic stud.
Mobile Phones: Mobile phones may not be used anywhere in the College during the college day. If a student has a mobile phone it must be kept switched off in their bag.
Uniform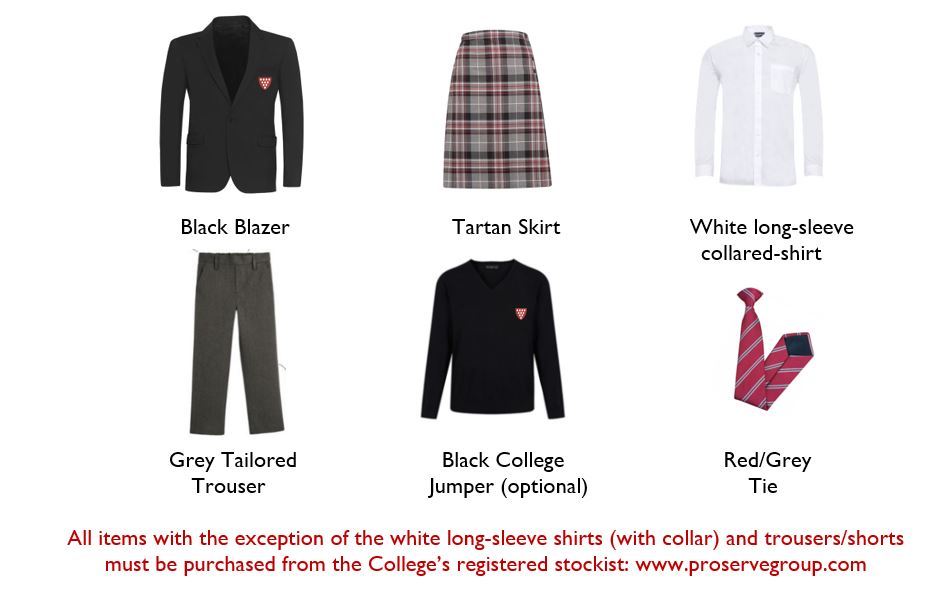 Proserve Group - Uniform Supplier
PHYSICAL EDUCATION KIT
All students must have:
KCC P.E. Top
Navy shorts
Trainers
Navy/red games socks
Shin-pads for all football and hockey lessons
A gum shield is compulsory for hockey and strongly recommended for rugby (if possible this should be designed and fitted by a dentist)
Football boots
Long-sleeved rugby top
Navy/black tracksuit trousers are advisable
A dark blue/black hoodie is advisable as students may not wear college jumpers or coloured hoodies in PE lessons.
Black leggings
Students should not bring high valuable items with them when they have PE or clubs. It is the student's responsibility to look after items that they bring into college. The changing rooms will be locked during lesson times. Students will need £1.00 coin should they wish to use a locker whilst at the Sports Centre.
Participation in PE lessons in the case of injury or following illness:
Students must present an acceptable note for any non-participation in PE.
All students must bring normal PE kit and a warm coat (when weather is poor) so they can help with organisational duties, coaching and refereeing.
All jewellery must be removed for lessons and clubs and hair must be tied back.
Any ears that have recently been pierced must have the studs taped over when participating in lessons (student to supply the tape.)
WATER
Water may be consumed in lesson items at the discretion of staff. It must be in clear bottles filled only with water (no squash, fruit juice etc). Please be aware that in some lessons water bottles may not be allowed due to health reasons where certain activities are undertaken.
Drinking fountains are also placed around the college.